Marie
Biographical information
Died

1899; Cabaret Fantome

Marital

In love with George

Physical description
Species
Gender

Female

Hair color

Black

Eye color

Brown

Skin color

Dark

Magical characteristics
Active powers
Character information
Only appearance
Portrayed By
.
Marie was mortal woman who worked at the Cabaret Fantome. She was in a relationship with George, a bartender. Both died in the fire that destroyed the club in 1899.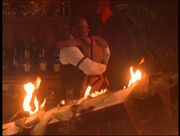 Marie died in the fire that destroyed the Cabaret Fantome in 1899. As the fire surrounded them, George and Marie embraced. After her death, Marie and the others became stuck in a time loop. Her soul was put to rest when the soul of the evil Count Roget was banished.

Appearances
Edit
Marie appeared in a total of 1 episode over the course of the series.
Charmed

,

Season 7

#01
"A Call to Arms"
#09
"There's Something About Leo"
#17
"Scry Hard"
#02
"The Bare Witch Project"
#10
"Witchness Protection"
#18
"Little Box of Horrors"
#03
"Cheaper by the Coven"
#11
"Ordinary Witches"
#19
"Freaky Phoebe"
#04
"Charrrmed!"
#12
"Extreme Makeover: World Edition"
#20
"Imaginary Fiends"
#05
"Styx Feet Under"
#13
"Charmageddon"
#21
"Death Becomes Them"
#06
"Once in a Blue Moon"
#14
"Carpe Demon"
#22
"Something Wicca This Way Goes...?"
#07
"Someone to Witch Over Me"
#15
"Show Ghouls"
#08
"Charmed Noir"
#16
"The Seven Year Witch"