Marie
Physical description
Species
Gender

Female

Hair color

Black

Eye color

Brown

Skin color

Brown

Affiliation
Occupation

Wedding Planner

Character information
Only appearance
Portrayed By
.
"It's nice to see a bride who still has a sense of humor this close to the big day."
—Marie to Piper Halliwell.
Marie was a mortal woman and one of Piper Halliwell's wedding planners in 2001. She worked with Craig.
History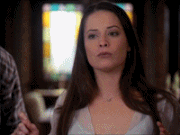 After a Dark Priestess used her dark magic to bind Prue Halliwell and the warlock Zile as husband and wife in a dark ceremony, evil spread from Prue to her sisters Piper and Phoebe. After becoming sick and tired of Marie and her partner's suggestions about her wedding, Piper turned Craig into a pig and froze Marie. Piper later turned the pair back to normal to fire them and Phoebe threw them out of the manor.

Appearances
Marie appeared in a total of 1 episode throughout the course of the series.
Charmed

,

Season 3

#01
"The Honeymoon's Over"
#09
"Coyote Piper"
#17
"Pre-Witched"
#02
"Magic Hour"
#10
"We All Scream for Ice Cream"
#18
"Sin Francisco"
#03
"Once Upon a Time"
#11
"Blinded by the Whitelighter"
#19
"The Demon Who Came in From the Cold"
#04
"All Halliwell's Eve"
#12
"Wrestling with Demons"
#20
"Exit Strategy"
#05
"Sight Unseen"
#13
"Bride and Gloom"
#21
"Look Who's Barking"
#06
"Primrose Empath"
#14
"The Good, the Bad and the Cursed"
#22
"All Hell Breaks Loose"
#07
"Power Outage"
#15
"Just Harried"
#08
"Sleuthing with the Enemy"
#16
"Death Takes a Halliwell"