Home
Talk

768
4,494pages on
this wiki
Welcome to the Charmed Wiki
The Charmed wiki is a free, public and collaborative project for all, to help create a definitive encyclopedia for the hit-television show Charmed. If you're a fresh Charmed-fan, know that this wiki contains a plethora of spoilers!

We are currently editing 4,494 articles since January 24 of 2006.
Featured Article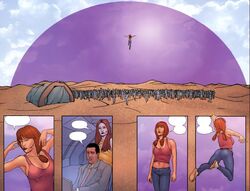 The All is a spiritual energy which runs through everything that exists since when the world was a dark and tumultuous place. Neither good nor evil, it's part of the Earth, the air, everything. The Nexus of The All is much more powerful than the Nexus of the Halliwell Manor. The All is the basis of all magic.  According to Prue, the dome lets you tap into the point her power will eventually grow to.
Featured Character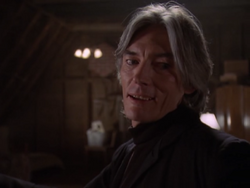 Barbas, also known as the Demon of Fear, is an ancient and powerful upper-level demon. His primary power is the ability to read the fears of his victims and use those fears against them. Barbas was originally bound to a cycle which only allowed him to return to earth every thirteen hundred years.
Featured Power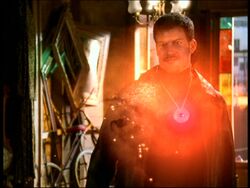 Immunity is the ability that grants the possessor immunity from most or any kind of powers (including their own), spells, and potions (except for a Power Stripping Potion). The being with immunity will absolutely be not affected by the spells, potions and powers they are immune to. Several upper-level demons possess this power, although they are usually only immune to the powers of witches.
Featured Episode
Wicca Envy is the 10th episode of the first season and the 10th overall episode of Charmed.
Rex uses astral projection to control Prue's mind, tricking her into stealing a tiara from the auction house's vault and Prue ends up in jail. Rex blackmails the sisters into giving up their powers to him, but Leo, revealing himself as some kind of supernatural protector of the sisters, returns their powers to them.
Featured Picture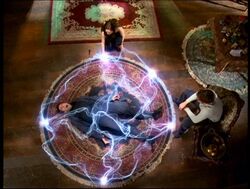 About:
Paige and Chris interrogating a demon.
Related articles:

Follow us on Facebook
Upcoming Issue
The Power of 300
Issue #24   |   Volume 4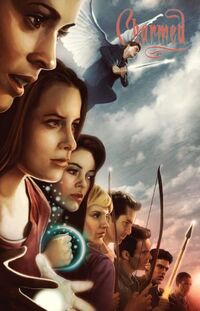 Four sisters, bound by love and magic, have had their lives turned upside down many times in the years since they first inherited their powers. Now, they must put aside their differences and work together to take back their world. The Charmed Ones will need to unleash the full strength of the magic that has been growing through their family line for centuries in an epic battle that will bring season nine to its earth-shattering conclusion.
---
Recent Uploads
Featured Quote
"You are some creepy registered sex offender from the future." - Paige Matthews.
Featured Video
Featured Poll
What is your favorite relationship?
Last month 244 people voted. 57% of you chose Goddess as your favorite Paige transformation. Vampire came second at 28%.
Last week 31% of you chose Cole as your favorite Charmed guy!