Home
Talk

760
4,297pages on
this wiki
Welcome to the Charmed Wiki
The Charmed wiki is a free, public and collaborative project for all, to help create a definitive encyclopedia for the hit-television show Charmed. If you're a fresh Charmed-fan, know that this wiki contains a plethora of spoilers!

We are currently editing 4,297 articles since January 24 of 2006.
Featured Article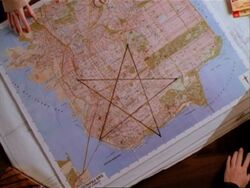 A Nexus, often referred to as a Spiritual Nexus, is a point of incredible energy equidistant from the five mystical (or wiccan) elements: earth, fire, wood, water, and metal. Usually located at the center of a pentagram formed by the points of these elements, its power can be swayed either way, meaning that it could be a force of undeniable good or a force of undeniable evil.
The one under the Halliwell Manor is embodied as a shadow and seen as a place of ultimate power.
Featured Character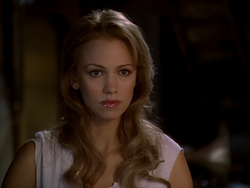 Christy Jenkins was the oldest daughter of Carl and Helen Jenkins and older sister of Billie Jenkins. She and her sister were both latent witches and manifested their powers later in life. Christy inherited her magic from her maternal grandmother.
As a girl, Christy was kidnapped by The Triad and raised with a warped sense of good and evil. She believed herself destined to kill the Charmed Ones because they were selfish and no longer served the greater good.
Featured Power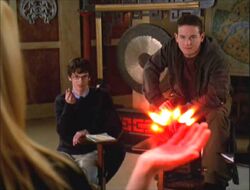 Conjuration is the ability to materialize imaginary objects and beings at will. This power is channeled through both the mind and the hands and triggered by focus or imagination.
Conjuration can also be achieved through Spell Casting and sometimes a spell is required to activate this power. This power is often used to conjure small objects and weapons, though it's exact limits are unknown.
Featured Episode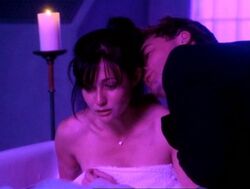 Dream Sorcerer is the 5th episode of the first season and the 5th overall episode of Charmed. Prue finds her sleep disturbed by strange visions in which she's taunted by a mysterious man. Meanwhile, Phoebe and Piper cast a spell to attract men, but it turns out too strong, and they can barely escape their myriad of admirers, and the same is the case with their cat, Kit.
Featured Picture
About:
Phoebe casting a spell to make herself smarter.
Related articles:

Follow us on Facebook
Upcoming Issue
The Power of 300
Issue #24   |   Volume 4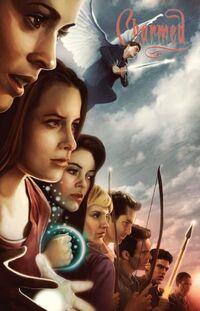 Four sisters, bound by love and magic, have had their lives turned upside down many times in the years since they first inherited their powers. Now, they must put aside their differences and work together to take back their world. The Charmed Ones will need to unleash the full strength of the magic that has been growing through their family line for centuries in an epic battle that will bring season nine to its earth-shattering conclusion.
---
Recent Uploads
Featured Quote
"Honey, why did you vanquish watermelon?" - Phoebe Halliwell
"I didn't vanquish watermelon. I threw it up in the air and I tried to freeze it and it exploded." - Piper Halliwell
Featured Video
Featured Poll
Who is your favorite Charmed guy?
Last month 247 people voted. 62% of chose a Mermaid as your favorite magical being.
Last week 31% of you chose Cole as your favorite Charmed guy!