Home
Talk

735
4,188pages on
this wiki
Welcome to the Charmed Wiki
The Charmed Wiki is a free, public and collaborative project for all, to help create a definitive encyclopedia for the hit television show Charmed. If you're a fresh Charmed-fan, know that this wiki contains a plethora of spoilers.

We are currently editing 4,188 articles since January 24 of 2006.
Featured Article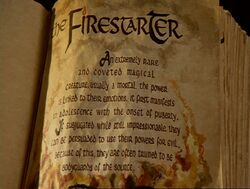 Firestarters are magical creatures with the particular power of Pyrokinesis. When their emotions are heightened, they can concentrate and create fire or cause things to burst into flames. Not particularly common, they can be good or evil. Because of their advanced power, they are tracked by Demonic Bounty Hunters, to be given to and trained by a powerful Upper-Level demon called Ludlow, who will train them to become bodyguards to the Source. The power usually manifests in adolescence, in the form of headaches when they become particularly emotional, that result in things bursting into flames.
Featured Character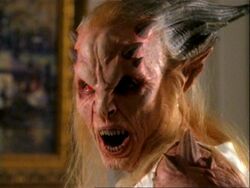 Hecate is the (presumably) self-proclaimed "Queen of the Underworld" who comes to earth every 200 years to find an innocent man from a well-born family and put him under her spell so she can create a demonic spawn. She was the first upper-level demon encountered by the Charmed Ones. Hecate must marry the innocent man in a sanctified wedding before impregnating herself. That way, her child would look human on the outside, but internally and mentally, he would be pure demon.
Featured Power
Possession is the ability to control living beings actions by entering their body. Andras is able to possess a host if he becomes angry enough, The Source is able to perform the act at will and certain ghosts can escape the void and possess the living. Kali possessed this power, but her victim had to touch the mirror she was appearing in in order for her to do it, such as when she possessed Aviva. However, since she was only a low-level demon, breaking her possession was fairly easy.
Featured Episode
Look Who's Barking is the 21st episode of the third season and the 65th overall episode of Charmed. Phoebe has a premonition of a murderous banshee while adding on to the Belthazor section of the Book of Shadows, thus causing her to think Cole is responsible. The sisters then cast a spell to track the banshee which turns Prue into a dog, but after Prue gets hit by a car, Phoebe's remorse causes the banshee to attack her and turn her into a banshee too.
Featured Picture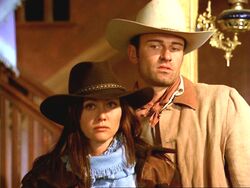 About:
Prue and Cole enter a time loop that brings them back to the Old West.
Related articles:
Follow us on Facebook
Upcoming Issue
Prue Ya Gonna Call?
Issue #22   |   Volume 4
Magic gangs fight for control against government forces seriously out of their depth. Even with Piper, Phoebe, and Paige on the case, there is little they can do without their own magic. Overwhelmed and outnumbered, the side of good must hang all their hope on the single most powerful witch in the world.
---
Recent Uploads
Featured Quote
"Innocents and alleys. Don't they ever learn?"
Featured Video
Featured Poll
What is your favorite Charmed season?

 

After last week's voting, 42% of you loved both the Charmed trios equally!