Home
Talk

770
4,504pages on
this wiki
The Charmed wiki is a free, public and collaborative project for all, to help create an encyclopedia for the hit-television show Charmed. Fresh Charmed-fans, note that this wiki contains a plethora of spoilers!

We are currently editing 4,504 articles since January 24 of 2006.

---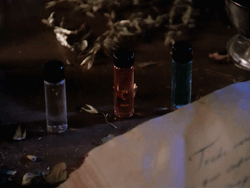 Potions are primarily liquids with magical properties; however, some can exist as powders or gels. Brewed with the necessary herbs, spices, or other various ingedients, these magical substances can achieve various effects.
The Warren Book of Shadows contains a plethora of potions, nearly all of them written by Penny Halliwell, who was considered the best potion maker of the entire Warren-Halliwell line.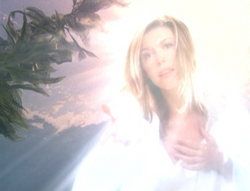 Patricia "Patty" Halliwell was a witch of the Warren line of witches. She is the ex-wife of Victor Bennett and the mother of their three children: Prue, Piper and Phoebe, who are also known as the Charmed Ones. In the midst of her failing marriage, however, she also had a forbidden affair with her Whitelighter, Sam Wilder, with whom she had a daughter named Paige Matthews.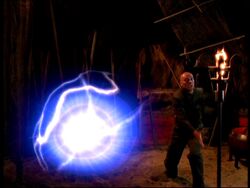 The power to throw Energy Balls is an offensive ability used by primarily demons, and in some cases witches, Whitelighters and warlocks. The user can form balls of energy, which resemble electrical discharges, in their hand, and throw them at targets with varying levels of voltage. They can also dissipate and control the energy ball while still in their hand.
Someone to Witch Over Me is the 7th episode of the seventh season and the 141st overall episode of Charmed.
Kyle Brody convinces Paige to help him solve some mysterious accidents. They discover a demon named Sarpedon is stealing innocents' guardian angels. While they are trying to prove their theory, Sarpedon steals Paige's Guardian Angel, causing her to become maddeningly accident prone.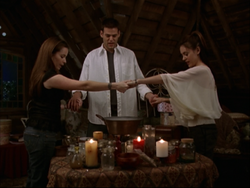 About:
Henry attempting to cast a spell with Piper and Phoebe.
Related articles:
Charmed Assault
Issue #04   |   Season 10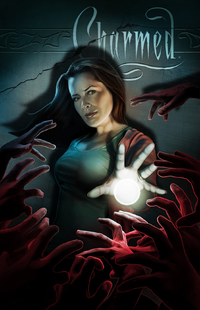 The Charmed Ones race into their final battle with Valen. And when all is said and done, their lives will be forever changed.
Plus, Phoebe + Cole = ???
---
"You are some creepy registered sex offender from the future." - Paige Matthews.
Who was or is your favorite comic villain so far?
Last month 433 people voted. 53% of you chose Piper and Leo as your favorite relationship. Phoebe and Cole came second at 26%.