Home
Talk

767
4,475pages on
this wiki
Welcome to the Charmed Wiki
The Charmed wiki is a free, public and collaborative project for all, to help create a definitive encyclopedia for the hit-television show Charmed. If you're a fresh Charmed-fan, know that this wiki contains a plethora of spoilers!

We are currently editing 4,475 articles since January 24 of 2006.


Featured Article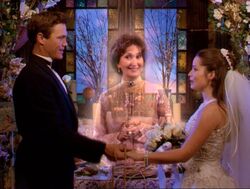 Handfasting is a magical wedding ritual that can be performed by good magical beings, best done if presided over by a High Priestess at sunrise or sunset. Piper Halliwell and Leo Wyatt were married in such a ceremony.
Featured Character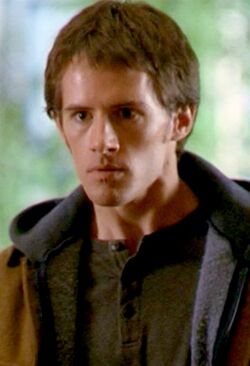 Vinceres was a formidable demonic assassin who has terrorized magical beings and innocents for centuries. His threat was ended when he was cursed with the power of Empathy by Father Thomas. However, he was accidentally freed by Prue Halliwell, who mistook him for an innocent.
Featured Power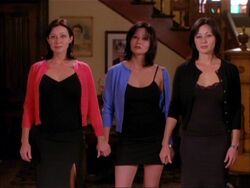 Cloning is the power that allows the user to create an exact duplicate of his or herself, including any extra powers that the user might have. The duplicate is seemingly independent, but cannot be sustained for long periods of time.
Featured Episode
Death Becomes Them is the 21st episode of the seventh season and the 155th overall episode of Charmed.
Zankou starts his plan to get the Book of Shadows. He hires a demon to kill Tim, Phoebe's friend, right in front of her eyes and works together with an Alchemist to bring Tim and some lost innocents back to life.
Featured Picture
About:
Prue and Cole in the Wild, Wild West.
Related articles:

Follow us on Facebook
Upcoming Issue
No Country for Old Ones
Issue #1   |   Season 10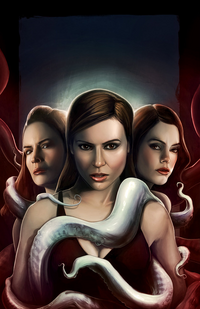 ---
Recent Uploads
Featured Quote
"I don't know how you got here, Paige. But if it's any consolation, I know exactly where I'm gonna bury you. Right next to yourself." - Cole Turner
Featured Video
Featured Poll
What is your favorite Paige transformation?
Last month 222 people voted. 27% of you chose Hydrokinesis as power that suits you best. Cryokinesis came second at 19%.