Lucas Devane
Biographical information
Marital

Single

Physical description
Species
Gender

Male

Hair color

Blonde

Eye color

Brown

Skin color

White

Family information
Family members

Tracy (niece)
Unnamed niece

Character information
Only appearance
Portrayed By
.
"Piper, I'm sure you're very nice, but someone who let's things like superstitions or omens to determine their lives, well, I just had an experience like that with my last girlfriend and it was a disaster. I'm looking for someone who's just not into that stuff. I'm sorry."
—Lucas ending things with Piper.
Lucas Devane was a mortal who was interested in Piper Halliwell. He was named one of the Bay Area's most eligible bachelors and has two nieces, whom he is crazy about.
History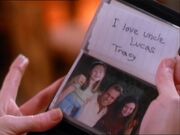 Lucas was chairing a fundraiser for a children's hospital being held at Quake where he met Piper. He asked her out, but is ultimately turned off by her because she believed in superstitions. His last girlfriend also believed in superstitions and it was a "disaster" as he recalled.
Appearances
Lucas Devane appeared in a total of 1 episode throughout the course of the series.
Charmed

,

Season 1

#01
"Something Wicca This Way Comes"
#09
"The Witch is Back"
#17
"That '70s Episode"
#02
"I've Got You Under My Skin"
#10
"Wicca Envy"
#18
"When Bad Warlocks Go Good"
#03
"Thank You For Not Morphing"
#11
"Feats of Clay"
#19
"Out of Sight"
#04
"Dead Man Dating"
#12
"The Wendigo"
#20
"The Power of Two"
#05
"Dream Sorcerer"
#13
"From Fear to Eternity"
#21
"Love Hurts"
#06
"The Wedding from Hell"
#14
"Secrets and Guys"
#22
"Déjà Vu All Over Again"
#07
"The Fourth Sister"
#15
"Is There a Woogy in the House?"
#08
"The Truth is Out There... and It Hurts"
#16
"Which Prue is It, Anyway?"