Love is a Burning Thing is the 8th issue of the Charmed Comics: Season 10 published by Zenescope Entertainment.
For a complete plot of Love is a Burning Thing, go

here

.
When Tyler Michaels discovers his powers evolving beyond that of a firestarter, he seeks out Paige, who has disturbing answers for him. Meanwhile, Coop and Henry plot to pull off the impossible... and they just might have to call on a newly empowered Tyler for help.
As a new arc begins in Season Ten, the truth about Prue's isolation at the hands of her sisters will come to light. Everything is about to change!
Characters
Edit
Returning
Edit
Non-Speaking
Edit
Mentioned
Edit
Magical Notes
Edit
Notes and Trivia
Edit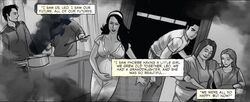 Previews
Edit