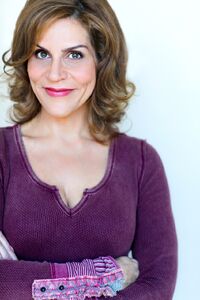 Lori Alan is an American actress who portrayed Cynthia in Season 4 episode "Lost and Bound".
Biography
Edit
Lori Alan was born July 18, 1966 Potomac, Maryland. She has been seen and heard on hundreds of commercials, from the voices of Lifetime, Century 21 Real Estate and Ikea to the Mervyn's lady. Lori performed with Gotham City (Groundlings East) in New York City, and did stand-up comedy act at such places as The Improv! Some of her better-known cartoon voices are Pearl the Whale on Nickelodeon's "SpongeBob SquarePants", Rhonda's Mom on Nickelodeon's "Hey Arnold!", The Invisible Woman on "Fantastic Four" and various voices for the Fox series "Family Guy".
Law & Order
Fantastic Four
Will & Grace
Hey Arnold!
Sabrina, The Teenage Witch
Friends
SpongeBob SquarePants
CSI: Crime Scene Investigation
Family Guy
External Links
Edit
Ad blocker interference detected!
Wikia is a free-to-use site that makes money from advertising. We have a modified experience for viewers using ad blockers

Wikia is not accessible if you've made further modifications. Remove the custom ad blocker rule(s) and the page will load as expected.