Lieutenant Snyder
Physical description
Species

Artificial Being

Gender

Male

Magical characteristics
Desires

Finding the Burmese Falcon

Affiliation
Occupation

Police Lieutenant

Character information
First appearance
Portrayed By
.
Lieutenant Snyder was a fictional character in the novel Crossed, Double-Crossed. He was a corrupt police lieutenant driven by finding the Burmese Falcon.
History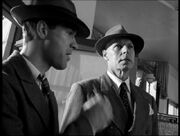 When Paige Matthews and Kyle Brody were sucked into the book, they were pursued by Lieutenant Snyder and Davis across town. They were later captured when Eddie Mullen betrayed them and lured them into a trap. While Snyder interrogated Kyle, Paige seduced Davis and stole his gun. As she entered the interrogation room, Snyder was distracted, allowing Kyle to knock him unconscious.

Appearances
Lieutenant Snyder appeared in a total of 1 episode throughout the course of the series.
Charmed

,

Season 7

#01
"A Call to Arms"
#09
"There's Something About Leo"
#17
"Scry Hard"
#02
"The Bare Witch Project"
#10
"Witchness Protection"
#18
"Little Box of Horrors"
#03
"Cheaper by the Coven"
#11
"Ordinary Witches"
#19
"Freaky Phoebe"
#04
"Charrrmed!"
#12
"Extreme Makeover: World Edition"
#20
"Imaginary Fiends"
#05
"Styx Feet Under"
#13
"Charmageddon"
#21
"Death Becomes Them"
#06
"Once in a Blue Moon"
#14
"Carpe Demon"
#22
"Something Wicca This Way Goes...?"
#07
"Someone to Witch Over Me"
#15
"Show Ghouls"
#08
"Charmed Noir"
#16
"The Seven Year Witch"