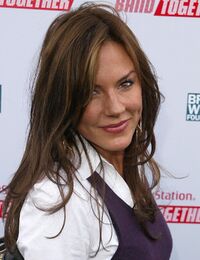 Krista Allen 
(April 5, 1971) is an American actress born in Ventura, California. She portrayed
The Source's Oracle
in the
season 4
episodes
"Charmed Again, Part 1 and Part 2"
and
"Brain Drain"
.
Biography
Edit
Krista Allen was born April 5th 1971 in Ventura, California to Katherine and Dalton Allen. She grew up in Houston and later lived in Austin, Texas, going to school at Austin Community College and majoring in education. Krista eventually graduated from the University of Texas with an education degree. She considered teaching as a profession but ultimately decided to move back to California and pursue an acting career. Allen is sometimes credited as Krista Allen-Moritt as a result of her marriage to Justin Moritt which lasted from 1996 to 1999; they have one son, Jacob Nolan, born on July 12, 1997. Allen also dated actor George Clooney from 2002 to 2004.
On October 10, 2010, she married Mams Taylor, a British musician. They separated in August 2011 and Allen filed for divorce at Los Angeles County Superior Court on February 12, 2012.[9]
Krista is descended from Elizabeth Key Grinstead, thus giving her distant African-American ancestry. Through Elizabeth, Krista is a very distant cousin of Johnny Depp.
Filmography
Liar Liar (1997)
Totally Blonde (2001)
Shutup And Kiss Me (2004)
Feast (2005)
Strange Wilderness (2008)
Final Destination 4 (2009)
Television
Edit
Diagnosis: Murder
Days Of Our Lives
Pacific Blue
The X Files
Spin City
Friends
Just Shoot Me!
Frasier
Smallville
Two And A Half Men
Monk
What About Brian?
External Links
Edit
Ad blocker interference detected!
Wikia is a free-to-use site that makes money from advertising. We have a modified experience for viewers using ad blockers

Wikia is not accessible if you've made further modifications. Remove the custom ad blocker rule(s) and the page will load as expected.