Keats
Biographical information
Level
Physical description
Species
Gender

Male

Hair color

Brown

Eye color

Brown

Skin color

White

Magical characteristics
Active powers
Affiliation
Occupation

Leader of a Demonic Faction

Residence
Loyalty

The Vampire Queen (partner)

Character information
Only appearance
Portrayed By
.
"It's a waste of time. He'll never bring you back from exile. He's heard the stories of what you did."
—Keats to the Vampire Queen.
Keats was an upper-level demon and leader of a Demonic Faction. He worked for Cole Turner after the former had become the new Source of All Evil, though he and the Vampire Queen planned to overthrow him and take charge themselves.
History
Keats attended a meeting of the Demonic Factions and questioned Cole's authority, though the meeting was cut short by the arrival of Phoebe Halliwell. After the meeting, Keats met with the Vampire Queen and tried to convince her it was a waste of time to talk to Cole, as he would never end the vampires' exile. The Queen was unconvinced and sent Rowan to meet with Cole anyway.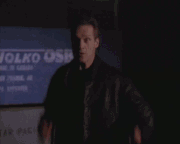 After the vampires had turned Paige Matthews into one of their own, Cole considered it an act of war against him. Keats tried to calm things down, though Cole refused to listen. Keats went to warn the queen, though he was discovered by Cole. Upon learning of his betrayal, Cole tortured Keats with fire until he talked. It is unknown what happened to Keats afterwards, though he was presumably vanquished.
Powers and Abilities
Active Powers
Shimmering: A demonic form of teleportation in which the user appears and disappears in a "shimmer".
Red Energy Balls: The ability to throw spheres of magical energy that resemble electrical discharges. Keats' Energy Balls had a rare and distinct red color.
Appearances
Keats appeared in a total of 1 episode throughout the course of the series.
Charmed

,

Season 4

#01
"Charmed Again, Part 1"
#09
"Muse to My Ears"
#17
"Saving Private Leo"
#02
"Charmed Again, Part 2"
#10
"A Paige from the Past"
#18
"Bite Me"
#03
"Hell Hath No Fury"
#11
"Trial by Magic"
#19
"We're Off to See the Wizard"
#04
"Enter the Demon"
#12
"Lost and Bound"
#20
"Long Live the Queen"
#05
"Size Matters"
#13
"Charmed and Dangerous"
#21
"Womb Raider"
#06
"A Knight to Remember"
#14
"The Three Faces of Phoebe"
#22
"Witch Way Now?"
#07
"Brain Drain"
#15
"Marry-Go-Round"
#08
"Black as Cole"
#16
"The Fifth Halliwheel"