Karl
Biographical information
Marital

In an abusive relationship with Joanna

Physical description
Species
Gender

Male

Hair color

Blond

Eye color

Brown

Skin color

White

Character information
Only appearance
Portrayed By
.
"Well, she's been trying to get between us from day one. I know she has."
—Karl about Paige.
Karl was a mortal who dated Joanna, a charge of Paige Matthews. Joanna seemed scared of Karl, leading Paige to believe that he was abusive.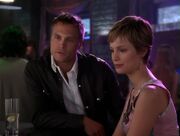 When Paige met Karl while guiding Joanna, she instantly got a bad vibe from him and she believed him to be abusive. Karl knew that Paige suspected him, so he did not want Joanna to hang out with her. Paige later urged Joanna to end the relationship. Ater bringing her home, Paige told Joanna to lock the door and not let Karl in.
Once Paige left, Zankou, who had shapeshifted into Karl, confronted Joanna and killed her, leaving her dead body for Paige to find.
Notes and Trivia
Edit
It is unknown if Zankou only replaced Karl or if he killed him. If Zankou did not kill him, it is possible he has been held responsible for Joanna's death.
Appearances
Edit
Karl appeared in a total of 1 episode throughout the course of the series.
Charmed

,

Season 7

#01
"A Call to Arms"
#09
"There's Something About Leo"
#17
"Scry Hard"
#02
"The Bare Witch Project"
#10
"Witchness Protection"
#18
"Little Box of Horrors"
#03
"Cheaper by the Coven"
#11
"Ordinary Witches"
#19
"Freaky Phoebe"
#04
"Charrrmed!"
#12
"Extreme Makeover: World Edition"
#20
"Imaginary Fiends"
#05
"Styx Feet Under"
#13
"Charmageddon"
#21
"Death Becomes Them"
#06
"Once in a Blue Moon"
#14
"Carpe Demon"
#22
"Something Wicca This Way Goes...?"
#07
"Someone to Witch Over Me"
#15
"Show Ghouls"
#08
"Charmed Noir"
#16
"The Seven Year Witch"