Kam
Biographical information
Died
Physical description
Species
Gender

Male

Hair color

Black

Eye color

Brown

Skin color

Brown

Affiliation
Residence
Character information
Only appearance
Portrayed By
.
Possessor Demon: "What's taking you so long? You were supposed to have this cleaned days ago."
Kam: "Yeah, well, it wasn't as easy as we thought. It's a lot more—"
Possessor Demon: "I don't wanna hear any more excuses, do you understand me?!"
— Kam's last words before being vanquished.
Kam was one of the demons working on cleaning up Magic School. He was vanquished by a female Possessor Demon who wasn't pleased with his work.
History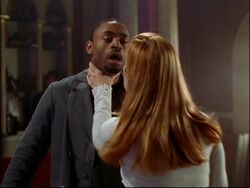 When the possessor demon decided to resurrect The Source of All Evil, she realized she needed Wyatt Halliwell's help to do so. In order not to scare the boy, she recruited many demons, including Kam, to clean up Magic School and create a comfortable place for Wyatt. However, the possessor demon complained about Kam's work. She claimed that Magic School was supposed to be cleaned earlier. When Kam tried to defend himself and explain why it was taking so long, the Possessor Demon got angry. She walked up to him, grabbed him by his neck and vanquished him with Molecular Dispersion.
Appearances
Kam appeared in a total of 1 episode throughout the course of the series.
Season 8