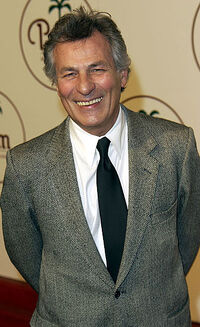 Joe E. Tata was born on September 13, 1936 in Pittsburgh, Pennsylvania, USA. He is an actor, known for Beverly Hills, 90210, General Hospital and Days of Our Lives. He portrayed an Inspector in the season 3 episode "Look Who's Barking".
Joe E. Tata also acted alongside Shannen Doherty in "Beverly Hills, 90210". Joe portrayed "Nat", the owner of the teenage hangout The Peach Pit.
External Links
Edit
Ad blocker interference detected!
Wikia is a free-to-use site that makes money from advertising. We have a modified experience for viewers using ad blockers

Wikia is not accessible if you've made further modifications. Remove the custom ad blocker rule(s) and the page will load as expected.