Jan
Physical description
Species
Gender

Female

Hair color

Reddish brown

Skin color

White

Affiliation
Occupation
Character information
Only appearance
Portrayed By
.
Jan worked at "Fine Romance" and was also believed to be a member herself.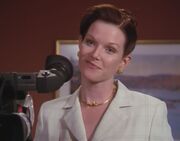 For each member's "profile" it was assumed that she taped every one of them, including Manny Hanks's and Dan Gordon's. After she finished Manny's video she was in awe saying that Manny was really in tune with his feminine side (little did she know). Jan seemed almost envious of how amazing Manny's video was. The morning after Manny's video was released, Manny hit a house record of 20+ hits. Because of the number of hits Manny decides to go on dates with all of them at P3 where Jan shows up looking sexy in red.
When Phoebe sensed the Succubus in the club, she assumed it to be Jan and distracted her while Prue exited through the back door. She realized her mistake when she had a vision of the demon following Prue.
Appearances
Edit
Jan appeared in a total of 1 episode though out the course of the series.
Season 2
Ad blocker interference detected!
Wikia is a free-to-use site that makes money from advertising. We have a modified experience for viewers using ad blockers

Wikia is not accessible if you've made further modifications. Remove the custom ad blocker rule(s) and the page will load as expected.