Jake Grisanti
Biographical information
Marital

Married to Carol Grisanti

Physical description
Species
Gender

Male

Hair color

Brown

Eye color

Brown

Skin color

White

Family information
Family members
Character information
Only appearance
Portrayed By
.
"I'm not covering for you anymore, Carol. You keep your hands off our son."
—Jake to his wife
Jake Grisanti was a father who was falsely accused of abusing his son, but he remained silent in order to cover for his wife, who was the true perpetrator of the crime.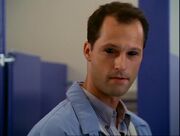 In 2001, Jake was possessed briefly by the Source of All Evil to provoke Paige Matthews into orbing his heart out so that she would become evil, though she was stopped in time by her sisters, Cole and Leo. After Paige almost killed him, Jake decided to stop covering for his wife and demanded that she leaves their son alone.
Notes and Trivia
Edit
Jake was briefly mentioned in the episode "Brain Drain".
Appearances
Edit
Jake Grisanti appeared in a total of 1 episode throughout the course of the series.
Charmed

,

Season 4

#01
"Charmed Again, Part 1"
#09
"Muse to My Ears"
#17
"Saving Private Leo"
#02
"Charmed Again, Part 2"
#10
"A Paige from the Past"
#18
"Bite Me"
#03
"Hell Hath No Fury"
#11
"Trial by Magic"
#19
"We're Off to See the Wizard"
#04
"Enter the Demon"
#12
"Lost and Bound"
#20
"Long Live the Queen"
#05
"Size Matters"
#13
"Charmed and Dangerous"
#21
"Womb Raider"
#06
"A Knight to Remember"
#14
"The Three Faces of Phoebe"
#22
"Witch Way Now?"
#07
"Brain Drain"
#15
"Marry-Go-Round"
#08
"Black as Cole"
#16
"The Fifth Halliwheel"