Internal Affairs, abbreviated I.A., is a division of a law enforcement agency that investigates incidents and plausible suspicions of lawbreaking, inappropriate or unprofessional misconduct attributed to officers on the police force.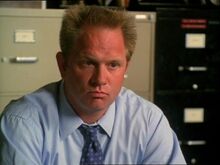 In the first season of Charmed, the Internal Affairs sector of the San Francisco Police Department grew suspicious of Inspector Andy Trudeau's involvement in several unexplained, unsolved legal cases that involved both supernatural phenomena and the Halliwell sisters, namely, Prue Halliwell.
Two inspectors from the Internal Affairs department were assigned to surveil Andy, Darryl and the sisters - Inspector Anderson and Inspector Rodriguez - Rodriguez turned out to be a demon sent to destroy the Charmed Ones. Andy and Prue meet at Quake and he tells her about the investigation, but she still requested his help, he adhered.
The two I.A. inspectors acquired photos of the Halliwell sisters and Andy as well as surveillance camera footage and pictures placing Andy at crime scenes before crimes were committed as well as a young brunette woman - Prue. The Inspectors used the incident involving the attack by Darklighter Alec on Daisy at the Motel Capri as ammunition to question Andy. [1]. The two men found it suspicious that Andy was the one who called in the crime committed as well as how he was there with Prue before the incident happened. Andy told them he got a tip about the attack but Rodriguez said he was lying and threatened Andy saying "this is an I.A. investigation, you don't have the same rights. You have no idea how much I can hurt you".
Inspector Anderson then stated they believed Andy was covering for someone and demanded that he tell them who and what he knew. Andy then placed his badge as well as his gun on the table, quitting telling the two inspectors to go screw themselves.

After Andy quit, he requested a meet with Darryl at a construction site to talk privately, the two I.A. inspectors found out about the meeting and asked Daryl to where a microphone. The two men followed Darryl and they monitored the conversation. During the conversation, Andy told Darryl that he was covering for Prue and her sisters. Inspector Rodriguez read Andy's lip and saw that he said Prue's name. Inspector Anderson asked how he knew Andy said Prue, after which Rodriguez's eyes went red and caused the earphone Anderson was wearing to make a deafening sound that killed him.
Notes and References
Edit
The investigation of Andy and Prue serves as a precursor to all other investigations by inspectors from other agencies such as Cortez, Agent Kyle Brody and Inspector Sheridan of the FBI and Homeland security later in the series.
Ad blocker interference detected!
Wikia is a free-to-use site that makes money from advertising. We have a modified experience for viewers using ad blockers

Wikia is not accessible if you've made further modifications. Remove the custom ad blocker rule(s) and the page will load as expected.