Innocents Lost is the 3rd issue of the Charmed comic series published by Zenescope Entertainment.
For a complete plot of Innocents Lost, go

here

.
Someone… or something is hunting down the innocents that have been saved by the Charmed Ones and murdering them in cold blood. As Piper, Phoebe and Paige race to save the remaining innocents, the forces of the underworld continue to gather the last remaining ingredients that will complete the ritual that will bring back the greatest foe the Charmed Ones have ever faced. An enemy so powerful not even the Power of Three may be able to stop it from destroying everyone.
Characters
Edit
Returning
Edit
Introduced
Edit
Mentioned
Edit
Magical Notes
Edit
Powers Used
Edit
Appendices
Edit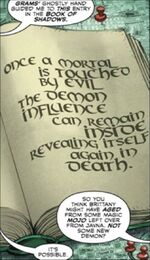 Once a mortal

is touched
by evil

the demon
influence

can remain

inside

revealing itself

again in
death
To Revive the Source of all Evil
Edit
Ingredients:

Blood of the innocents
Soil of the Ancient Burial Ground
Spell:

Borne from the Earth of the Underworld
Bound with the soil of the Ancient Burial Ground
Anointed by the blood of the innocent
Arise
Arise and Reawaken
The Source of all Evil
Notes and Trivia
Edit
External Links
Edit
Ad blocker interference detected!
Wikia is a free-to-use site that makes money from advertising. We have a modified experience for viewers using ad blockers

Wikia is not accessible if you've made further modifications. Remove the custom ad blocker rule(s) and the page will load as expected.