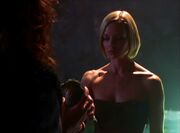 Immortals are beings incapable of dying of natural means, the opposite of mortals. However, they can still be killed or vanquished through unnatural means like magic or physical harm.[1]
Although beings can be born immortal, some acquire immortality through other means. Immortal beings are often immune to the effects of aging or at least age at a slower rate as mortals.[2]
Obtaining Immortality
Edit
One way of reaching immortality is by obtaining a large amount of magical power.
Drinking the water from the Eternal Spring grants immortality.[3]
Notable Immortals
Edit
Mermaids cannot die unless they willingly give up their immortality and are capable of giving it up and passing it on to others.[4]
The Angels of Destiny and the Angel of Death play a vital part in the Grand Design. For this reason, it is believed they are true immortals.
References
Edit
Ad blocker interference detected!
Wikia is a free-to-use site that makes money from advertising. We have a modified experience for viewers using ad blockers

Wikia is not accessible if you've made further modifications. Remove the custom ad blocker rule(s) and the page will load as expected.