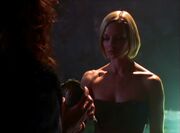 Immortals are beings incapable of dying of natural means, the opposite of mortals. However, they can still be killed or vanquished through unnatural means like magic or physical harm.[1]
Although beings can be born immortal, some acquire immortality through other means. Immortal beings are often immune to the effects of aging or at least age at a slower rate as mortals.[2]
Obtaining Immortality
One way of reaching immortality is by obtaining a large amount of magical power.
Drinking the water from the Eternal Spring grants immortality.[3]
Notable Immortals
References