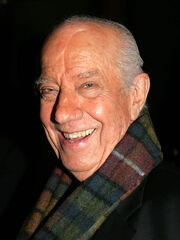 Ian Abercrombie was an English actor born 11 September 1936 in London, England. He portrayed Aramis, a member of The Tribunal in the Season 6 episode "Crimes and Witch-Demeanors".
Biography
Edit
He began his theatrical career as a lad during the Blitz in World War II. After his footwork years during which he earned Bronze, Silver and Gold medals in dance for the stage, he performed in London, Holland, Ireland and Scotland. He made his American stage debut in 1955 in a production of "Stalag 17" with Jason Robards and Jules Munshin. He passed away on January 26, 2012.
Star Wars: The Clone Wars (Chancellor Palpatine)(3 episodes, 2008)
Hard Four (Jack Ermine)(2007)
The Batman (Ewan)(2 episodes, 2005-2006)
The L.A. Riot Spectacular (Auctioneer)(2005)
Charmed (Aramis)(1 episode, 2004)
Birds of Prey (Alfred Pennyworth)(10 episodes, 2002-2003)
007: Nightfire (Alexander Mayhew)(VG)(voice)(2002)
Crossing Jordan (George)(1 episode, 2002)
Star Trek: Voyager (Abbot)(2 episodes, 1999-2000)
G vs. E (Jasper Ray)(1 episode, 1999)
Buffy the Vampire Slayer (Old Man)(1 episode, 1998)
Beyond Belief: Fact or Fiction (Emil Root)(1 episode, 1998)
Mousehunt (Auctioneer)(1997)
The Lost World: Jurassic Park (Hammond's Butler)(1997)
Touched by an Angel (George Taylor)(1 episode, 1997)
Murphy Brown (Professor Willendorf)(1 episode, 1994)
The Nanny (Butler Inspector #1)(1 episode, 1993)
Army of Darkness (Wiseman)(1992)
Twin Peaks (Tom Brockman)(1 episode, 1990)
External Links
Edit
Ad blocker interference detected!
Wikia is a free-to-use site that makes money from advertising. We have a modified experience for viewers using ad blockers

Wikia is not accessible if you've made further modifications. Remove the custom ad blocker rule(s) and the page will load as expected.