Hong Kong
City information
Relevance

Phoebe Halliwell temporarily moved here to be with Jason

Country

Independent city-state

.
Hong Kong is a city-state located on the south coast of China. Despite being technically under control of China, Hong Kong considers itself independent and has separate laws and regulation.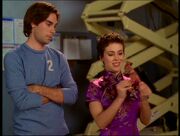 In 2004, with heavy persuasion from Elise, Piper and Jason, Phoebe Halliwell moved to Hong Kong to be close to her lover at the time, Jason Dean. Phoebe was often orbed back to the manor by Paige to see her family. Phoebe also practiced the Chinese language, numerology. She learned these things so she could fit in. She also became a skilled oragamist. Phoebe was capable of creating a tiger, something she was proud of. She ended up giving the tiger to Piper.
Later, when Phoebe told Jason that she was a witch, Jason couldn't handle it, thus, resulting in them breaking up and Phoebe moving back home.
Ad blocker interference detected!
Wikia is a free-to-use site that makes money from advertising. We have a modified experience for viewers using ad blockers

Wikia is not accessible if you've made further modifications. Remove the custom ad blocker rule(s) and the page will load as expected.