Haste Makes Wasteland is the 9th issue of the Charmed Comics: Season 10 published by Zenescope Entertainment.
For a complete plot of Haste Makes Wasteland, go

here

.
Nothing is what it seems when Henry, Coop, and Tyler return from a place they probably should've never gone in the first place. Meanwhile, Prue and an old frienemy are learning about what it means to be the Guardian of the Nexus of the All... and if Prue ever was the Guardian to begin with.
Change is coming...
Characters
Edit
Returning
Edit
Non-Speaking
Edit
Magical Notes
Edit
To Summon Kyra
Edit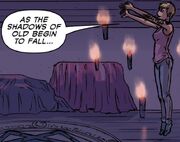 Prue used this spell to summon Kyra from the past. She had a pentagram drawn on the floor and several candles floating around it.
Those who dwell in darkness hear my call,
As the shadows of old begin to fall,
The hands of time will bend to mine,
And break before me, sundered twined,
Come forth, demon! Rise!
Artifacts
Edit
Ancient Athame: Used by Prue to threaten Kyra (off-screen).
Hippogriff Bile: Aged under fifty-six harvest moons. Kyra used it to see beyond the veil of Prue's powers by drawing a pentagram on her forehead.
Notes and Trivia
Edit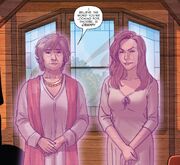 Ad blocker interference detected!
Wikia is a free-to-use site that makes money from advertising. We have a modified experience for viewers using ad blockers

Wikia is not accessible if you've made further modifications. Remove the custom ad blocker rule(s) and the page will load as expected.