Harry
Physical description
Species
Gender

Male

Hair color

Blond

Skin color

White

Affiliation
Occupation

Chef at Quake

Character information
Only appearance
Portrayed By
.
Harry was a mortal who temporarily worked as the new chef at Quake during the time Piper Halliwell was the manager.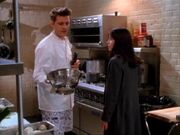 Immediately after being hired, Harry proved difficult to work with for Piper. Much to her annoyance, he threw out the old knives, changed the entire menu and showed up to work in shorts. He also appeared quite rude to Piper, at which point she froze him and threw his crab ravioli in the trash. After reluctantly putting up with him, Piper eventually became annoyed enough to storm into the kitchen to "end it". However, she later mentioned to Leo that Harry "quit", leaving it ambiguous what actually happened.
Appearances
Edit
Harry appeared in a total of 1 episode over the course of the series.
Season 1
Ad blocker interference detected!
Wikia is a free-to-use site that makes money from advertising. We have a modified experience for viewers using ad blockers

Wikia is not accessible if you've made further modifications. Remove the custom ad blocker rule(s) and the page will load as expected.