Guardians
Physical description
Species
Magical characteristics
Active powers
Inactive powers
Affiliation
Occupation

Guardians of evil mortals

Loyalty
Character information
Only appearance
.
Guardians are demons that possesses mortal criminals to help them spread evil. They appear as partially transparent balding men in dark robes, beards, and a rune on their forehead.
They possess human criminals and compel them to carve a demonic rune into an innocent's forehead, usually with an athame. The Guardian then leaves the possessed to absorb the soul of the victim through the rune. To vanquish a Guardian, the rune on their forehead must be pierced with a stake or other sharp object.
In 2000, a demon who had taken the name Judge William Hamilton was assigning Guardians to various criminals in San Francisco, including Emilio Smith. Emilio killed at least one young woman in an alley, and tried to kill Darryl. Prue threw Emilio at a dumpster and the Guardian left him. She then vanquished him by sending a metal rod into the rune on his forehead. Prue later vanquished another Guardian given to Emilio that was trying to kill Cole Turner in the San Francisco Police Department parking lot by sending an athame through the rune on its forehead.
The Judge had several Guardians possess the other courtroom officials, including Public Defender Alan Sloan, in order to cover up his plan. The Guardians gave the court officials superior strength and fighting ability when they battled hand-to-hand with the Charmed Ones. Eventually the mortals were knocked out, and left the possessed to re-merge with the Judge. The Judge, and those guardians with him, were incinerated by Cole Turner.
Powers and Abilities
Edit
Active Powers
Other Powers:
Intangibility: The ability to be able to pass through solid matter.
Adjusting: The ability to be able to fight through inhibitory molecular abilities.
Appendices
Edit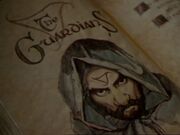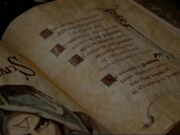 (Book of Shadows text:)
The Guardians
Edit
This symbol of darkness
indicates the presence
of a great evil.
An opening by which demons
known as the Guardians
steal an innocent soul.
In exchange, the Guardian
offers protection
of the mortal evil
during his time on earth.
To vanquish a guardian
from whence it came
you must impale it
at its source of power.
Appearances
Edit
Guardians appeared in a total of 1 episode throughout the course of the series.
Charmed

,

Season 3

#01
"The Honeymoon's Over"
#09
"Coyote Piper"
#17
"Pre-Witched"
#02
"Magic Hour"
#10
"We All Scream for Ice Cream"
#18
"Sin Francisco"
#03
"Once Upon a Time"
#11
"Blinded by the Whitelighter"
#19
"The Demon Who Came in From the Cold"
#04
"All Halliwell's Eve"
#12
"Wrestling with Demons"
#20
"Exit Strategy"
#05
"Sight Unseen"
#13
"Bride and Gloom"
#21
"Look Who's Barking"
#06
"Primrose Empath"
#14
"The Good, the Bad and the Cursed"
#22
"All Hell Breaks Loose"
#07
"Power Outage"
#15
"Just Harried"
#08
"Sleuthing with the Enemy"
#16
"Death Takes a Halliwell"
Ad blocker interference detected!
Wikia is a free-to-use site that makes money from advertising. We have a modified experience for viewers using ad blockers

Wikia is not accessible if you've made further modifications. Remove the custom ad blocker rule(s) and the page will load as expected.