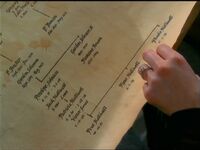 Gregory Bowen (b. 1876) was the husband of Lola M. and the father of P. Bowen, Prudence Halliwell's past life. He was the son of James Bowen.
The existence of Gregory contradicts the series, as it is specifically stated numerous times that Wyatt is the first male born into the continuously female, Warren line for three-hundred years.
Ad blocker interference detected!
Wikia is a free-to-use site that makes money from advertising. We have a modified experience for viewers using ad blockers

Wikia is not accessible if you've made further modifications. Remove the custom ad blocker rule(s) and the page will load as expected.