Greg Vaughan
Actor Information
Name

Greg Vaughan

Birthplace

Dallas, Texas

Birth date

June 15th 1973

Portrayed
Season
Episode(s)

A total of eighteen episodes.

.
James Gregory Vaughan Jr., credited solely as Greg Vaughan portrayed Dan Gordon in Season 2 of Charmed. He also portrayed Gordon Johnson in the Season 2 episode, Pardon My Past.
Biography
Edit
Greg Vaughan was born June 15th 1973 in Dallas, Texas. Greg was born and raised in Dallas, Texas. Shortly after graduating from high school, he ventured to Italy, where he modeled for designer Giorgio Armani. Gianni Versace, Tommy Hilfiger, Banana Republic, and Ralph Lauren. He briefly dated Charmed co-star Alyssa Milano in 2000.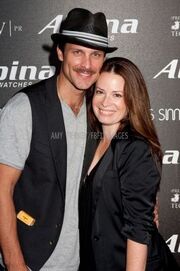 Greg Vaughan is best known for his work on:
Days of our Lives (2012)
Someone to love (2013)
90210 (2010 - 3 episodes)
The Closer
General Hospital
The Young And The Restless
Baywatch
Beverly Hills, 90210
Sabrina, The Teenage Witch
Malibu Shores
Buffy The Vampire Slayer
Spokesperson for "I Can't Believe It's Not Butter".
Poison Ivy: The New Seduction
Greg "punk'd" former Charmed co-star Shannen Doherty in the Dutch television program Ushi & Loesie. You can watch it here. Greg himself was "punk'd" on the same show before.
Like Shannen Doherty, Greg returned for a guest appearance on the revamp of Beverly Hills 90210 in 2010, he appeared in 3 episodes.
Like Charisma Carpenter, Greg appeared on the television series Buffy the Vampire Slayer.
Greg appears in the current Freescore.com commercial as the guy wearing 775.
Greg has also worked with T.W. King (as Luis & Lorenzo Alcazar) in the longest-running Emmy Daytime-Drama series "General Hospital". He portrayed Lucky Spencer together with Charmed co-stars Antonio Sabàto Jr. and Finola Hughes. In addition, he worked with Shawn Christian in "Days of Our Lives" as Eric Brady between 2012-2016.
Greg played a witch on Sabrina the Teenage Witch.
External Links
Edit
Ad blocker interference detected!
Wikia is a free-to-use site that makes money from advertising. We have a modified experience for viewers using ad blockers

Wikia is not accessible if you've made further modifications. Remove the custom ad blocker rule(s) and the page will load as expected.