Girl Victim
Talk

5
4,188pages on
this wiki
The Girl victim was abducted by Brendan Rowe's brothers, Greg and Paul. She was intended to be used as a cobaye in the brothers' attempt to persuade Brendan to accept his Demonic side, but the Charmed Ones arrived at the nick of time and were successful in dissuading Brendan from killing her.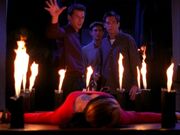 When the officer was questioning her, she told him that she felt the knife on her skin. But in the scene where Brendan held the knife over her, the knife was a good two inches away from her.
Appearances
Edit
The Girl Victim appeared in a total of 1 episode throughout the course of the series.
Season 1 -