Gideon
Biographical information
Died

October 2004; The Underworld

Physical description
Species
Gender

Male

Hair color

Brown

Eye color

Blue

Skin color

White

Magical characteristics
Active powers
Basic powers
Character information
First appearance
Last appearance
Portrayed By
.
This Gideon is from the Parallel World. He is the complete opposite of the "real" Gideon. Both Gideons joined forces to distract the Charmed Ones and kill Wyatt. He is killed by Leo Wyatt.
Distracting the Charmed Ones
Edit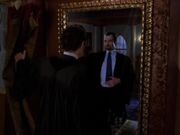 Both Gideons joined forces and create a plan to kill Wyatt with the help of the mirror. First he ruined the potion plan that Leo had to send Chris back to the future, so they had to use his spell, which sent Evil Leo and Evil Chris to the Good World and brought to the Evil World Good Leo and Good Chris. Then he told the sisters to wait for them at home, and Paige and Phoebe traveled to the Evil World. When he told Piper that things went wrong, she went in labor prematurely, leaving Wyatt with him.
First Attempt to Kill Wyatt
Edit
With Wyatt alone. Gideon orbs him to the attic. Then he casts a spell to an athame so it can cross Wyatt's Force Field. When he had him powerless evil and good sisters arrive and cast a spell on Gideon but he orbs before they finish. Then both Gideons heal each other.
Second Attempt to Kill Wyatt and Death
Edit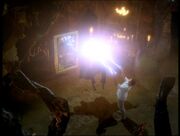 He, with the help of Barbas [of the Good World], distracts Leo to kidnap Wyatt, and kills Chris to get to him. In the Underworld, when Leo and Evil Leo find their respective Gideons, Good Leo is the one who kills Gideon. This results in Evil Gideon's death in the process.
Powers and Abilities
Edit
Basic Powers
Active Powers
Appearances
Edit
Evil Gideon appeared in a total of 2 episodes over the course of the series.
Charmed

,

Season 6

#01
"Valhalley of the Dolls, Part 1"
#09
"Little Monsters"
#17
"Hyde School Reunion"
#02
"Valhalley of the Dolls, Part 2"
#10
"Chris-Crossed"
#18
"Spin City"
#03
"Forget Me...Not"
#11
"Witchstock"
#19
"Crimes and Witch-Demeanors"
#04
"The Power of Three Blondes"
#12
"Prince Charmed"
#20
"A Wrong Day's Journey Into Right"
#05
"Love's a Witch"
#13
"Used Karma"
#21
"Witch Wars"
#06
"My Three Witches"
#14
"The Legend of Sleepy Halliwell"
#22
"It's a Bad, Bad, Bad, Bad World, Part 1"
#07
"Soul Survivor"
#15
"I Dream of Phoebe"
#23
"It's a Bad, Bad, Bad, Bad World, Part 2"
#08
"Sword and the City"
#16
"The Courtship of Wyatt's Father"