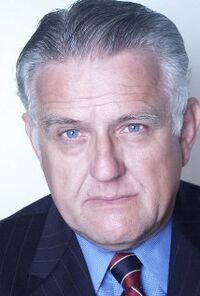 Frank Novak (March 4, 1945) is an American actor from Chicago, Illinois. He portrayed the Inflitrator Demon Daleek in the season 7 episode "Freaky Phoebe". However, he is credited as his alias Councilman Wexler.
L.A. Law
Quantum Leap
Star Trek"Deep Space Nine
Seinfeld
The Practice
Suddenly Susan
Melrose Place
The X-Files
Friends
Boston Public
CSI
Monk
Numb3rs
ER
Scrubs
Mad Men
External Links
Edit
Ad blocker interference detected!
Wikia is a free-to-use site that makes money from advertising. We have a modified experience for viewers using ad blockers

Wikia is not accessible if you've made further modifications. Remove the custom ad blocker rule(s) and the page will load as expected.