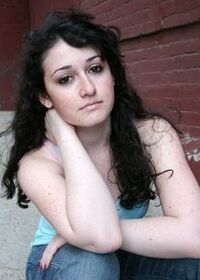 Erica Mer (April 23, 1988) is an American actress born in San Antonio, Texas. She portrayed Freckles in the season 3 episode "We All Scream for Ice Cream".
Biography
Edit
Erica's natural ability to entertain, along with her beautiful looks, helped her stand out at an agency open call in New York City where over 350 children attended. Ten months later, she landed her first job as Kayla Jones on the ABC Daytime soap opera The City. Erica appeared in several national commercials, including: Disney World, Red Lobster, Glad and JC Penney.
The Unit (Bonnie) (1 episode, 2006)
Six Feet Under (Courtney) (1 episode, 2004)
Providence (Molly) (1 episode, 2002)
Charmed (Freckles) (1 episode, 2001)
Star Trek: Voyager (Human Girl) (1 episode, 1998)
Babylon 5: In the Beginning (Lyssa Deradi) (1998)(TV)
External Links
Edit
Ad blocker interference detected!
Wikia is a free-to-use site that makes money from advertising. We have a modified experience for viewers using ad blockers

Wikia is not accessible if you've made further modifications. Remove the custom ad blocker rule(s) and the page will load as expected.