Emrick
Biographical information
Died
Level
Physical description
Species
Gender

Male

Hair color

Dark Blonde

Eye color

Brown

Skin color

White

Magical characteristics
Active powers
Affiliation
Residence

Magic School (temporarily)

Loyalty
Character information
Only appearance
Portrayed By
.
Emrick was a powerful Krychek Demon identifiable by his distinctive neck tattoo. He was one of the victims of a deadly virus spreading across the magical community.
While at Magic School with the rest of Margoyle's gang, Emrick was attacked by another Krychek Demon who was infected with a virus. Emrick later confronted Billie Jenkins at the school, who was there looking for information on her sister. Billie threatened Emrick and asked him to ask around for information.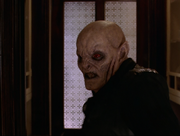 When the infection took hold of Emrick, he turned into a hulked out monster and attacked and infected Billie at the Halliwell Manor. Paige then orbed him back to the school, where he was found by his gang. A Soothsayer studied him and mentioned he lasted longer than any other demon. However, before he could finish the examination, Emrick died as a result of the virus.
Powers and Abilities
Edit
Active Powers
Shimmering: The ability to teleport through shimmering.
Fireballs: The ability to throw spheres of fire capable of vanquishing beings.
Appearances
Edit
Emrick appeared in a total of 1 episode throughout the course of the series.
Season 8
Ad blocker interference detected!
Wikia is a free-to-use site that makes money from advertising. We have a modified experience for viewers using ad blockers

Wikia is not accessible if you've made further modifications. Remove the custom ad blocker rule(s) and the page will load as expected.