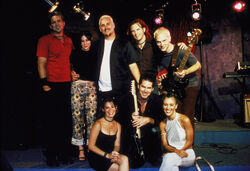 Dishwalla is an American alternative rock band from Santa Barbara, California. They have been active since 1994, only briefly inactive between 2006-2008. The band performed at P3 in the episode "The Devil's Music" singing "Find Your Way Back Home" and "Counting Blue Cars".
Band Members
Edit
Current Members
Edit
Rodney Browning Cravens - lead guitar (1993–present)
Scot Alexander - bass (1993–2005, 2008–present)
George Pendergast - drums (1993–1998, 2008–present)
Jim Wood - keyboards (1996–present)
Justin Fox - lead vocals (2008–present)
Former Members
Edit
J.R. Richards - vocals, guitar, keyboard (1993-2008)
Peter Maloney - drums (1998-2007)
Notes and Trivia
Edit
Dishwalla was the first music band to perform at P3 and the show of Charmed.
External Links
Edit
Ad blocker interference detected!
Wikia is a free-to-use site that makes money from advertising. We have a modified experience for viewers using ad blockers

Wikia is not accessible if you've made further modifications. Remove the custom ad blocker rule(s) and the page will load as expected.