Detective
Physical description
Species
Gender

Male

Character information
Only appearance
Portrayed By
.
"Of course. Now, earlier, you told the officer that you two were walking by, and your sister just fell. No warning, nothing?"
—The detective to Paige Matthews.
This Detective worked for the San Francisco Police Department. He investigated the mysterious death of Piper Halliwell, who fell dead on the street after being recruited by the Angel of Death.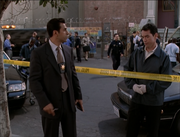 The detective questioned Paige shortly after Piper mysteriously died in the middle of the street. Unknowst to the detective, Piper was still present as an Angel of Death and kept talking to Paige. When the coroner annouched they were taking the bodies to the morgue for an autopsy, the sisters panicked and Paige told the detective it was against their religion. However, the detective replied that since it was a murder investigation, it was state law to perform one.
Notes and Trivia
Edit
Appearances
Edit
The Detective appeared in a total of 1 episode over the course of the series.
Charmed

,

Season 7

#01
"A Call to Arms"
#09
"There's Something About Leo"
#17
"Scry Hard"
#02
"The Bare Witch Project"
#10
"Witchness Protection"
#18
"Little Box of Horrors"
#03
"Cheaper by the Coven"
#11
"Ordinary Witches"
#19
"Freaky Phoebe"
#04
"Charrrmed!"
#12
"Extreme Makeover: World Edition"
#20
"Imaginary Fiends"
#05
"Styx Feet Under"
#13
"Charmageddon"
#21
"Death Becomes Them"
#06
"Once in a Blue Moon"
#14
"Carpe Demon"
#22
"Something Wicca This Way Goes...?"
#07
"Someone to Witch Over Me"
#15
"Show Ghouls"
#08
"Charmed Noir"
#16
"The Seven Year Witch"