Demonatrix
Talk

0
4,175pages on
this wiki
Demonatrix
Physical description
Species
Gender

Female

Hair color

Blonde (on screen)

Magical characteristics
Active powers
Inactive powers
Magic items

Shurikens

Affiliation
Loyalty
Character information
Only appearance
.
The Demonatrix were a tribe of lethal female demons led by Paige's created man, Vincent Wrong. Unlike other demons, they were ordered to kill other demons instead of innocents. Several worked for Vincent and vanquished many demons on his orders, for example the smoker demons. They captured Piper to kill her under Vincent's orders but were vanquished by Piper's Molecular Combustion and Phoebe deflecting their own shuriken.
Notable Demonatrixs'
Edit
Powers and Abilities
Edit
Active Powers
Other Powers

​Sensing: The ability to sense the location of other magical beings.
Immortality: The ability to possess an inifinite lifespan and an arrested aging process.
Notes and Trivia
Edit
A picture of Alyssa Milano as a Demonatrix is used on her webpage Alyssa.com.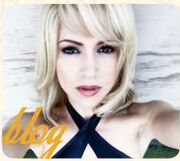 The name demonatrix comes from a combination of the the words Demon(their species) & Dominatrix(their style of dress)
Appearances
Edit
The Demonatrix appeared in a total of 1 episode throughout the course of the series.
Season 6
References
Edit