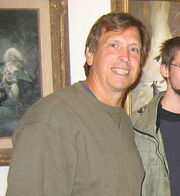 Dave Hoover (c. May 14, 1955 - September 5, 2011) is an American comic book artist and animator. He is most notable for his art on DC Comics' The Wanderers limited series, as well as lengthy runs on DC's Starman and Marvel Comics' Captain America.
He's the artist who did the interior art for the first four Charmed Comics (Issue #0 - #3). Starting from Issue #4, all interior art will be done by Marcio Abreu.
However, unfortunately Dave passed away on the 5th of September, 2011.
Artist Dave Hoover has not seen Charmed before in his life
Dave Hoover said in his DeviantArt account:
To get the job I had to compete with others vying for the same gig, and our task was to do model sheets of the girls showing how we would draw them. The art would be approved by the studio. The odd thing about this was that they supplied no photo reference, so I searched the internet high and low looking for the best possible pictures. Of the three girls, I thought Alyssa Milano would be the easiest to draw, but she turned out to be the hardest. She sort of changed her look more often than the other two, Rose McGowan and Holly Marie Combs .
I worked on a "Star Trek, the Generation Book" one time in the past and for that they supplied all kinds of great reference. In this case I did the best I could. Profile shots were the hardest to find, and I ended up compositing several photos to try to come up with a good profile shot of each of the girls. I was happy with the end results, and I guess the studio was too, because I got the job.
Ad blocker interference detected!
Wikia is a free-to-use site that makes money from advertising. We have a modified experience for viewers using ad blockers

Wikia is not accessible if you've made further modifications. Remove the custom ad blocker rule(s) and the page will load as expected.