The Dark Coronation
Event information
Location
Date(s)
Participants
Description

Cole and Phoebe became the king and queen of the underworld.

.
The Dark Coronation is the process in with the Source of All Evil is given the full powers of the Underworld in the presence of the Council. The ceremony is presided by a dark priest using the dark magic of the Grimoire.
Demonic Guards will take their places along the aisle. There will be Human sacrifices and at midnight when the ritualistic chant begins. The Source will be escorted in for the ceremony.
A Dark Priest begins the ceremony with a dark blessing, by chanting the spell in the Grimoire:
"May the world's evil flow through your soul tonight and grant you eternal darkness. Are you prepared to take the power and position of the Source before these leaders of the Underworld?"
Finally, the Source speaks the oath . Upon completion of the oath, the Source will be given the full powers of the underworld.
Coronation Oath
Edit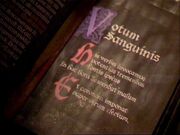 A dark spell in the Grimoire, wrote in Latin to call upon all the evil of the world to grant the Source all his powers and the powers of the underworld.
Appearances
Edit
This process has been seen in a total of 2 episodes throughout the course of the series
Season 4
Ad blocker interference detected!
Wikia is a free-to-use site that makes money from advertising. We have a modified experience for viewers using ad blockers

Wikia is not accessible if you've made further modifications. Remove the custom ad blocker rule(s) and the page will load as expected.