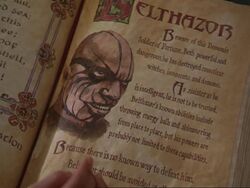 Dan Haberkorn is the creator of the Book of Shadows pages from 2x15 to 7x22. His first job for Charmed was creating the Halliwell Family Tree seen in 2x14. Since then he made the pages for the book until the end of season 7. This makes him the only artist to have been creating BoS page for that long a time. He had his assistants make a few pages during his time on the show, such as the Mind Link entry.
List of things created by Dan Haberkorn
Edit
(This list could be incomplete.)
- Book of Shadows pages (2x15 to 7x22)
- The Halliwell Family Tree
- Magic School pages (s6 - s7)
- The Grimoire
- The fairytale book
- The Halliwell's fairytale book
- The Crossed, Double Crossed book
- Paige's fairytale book painting (season 4)
- Magazine "New Fame" cover with Ask Phoebe on it (season 6)
- Witch Wars logo and opening
- Superheroes drawing of the Charmed Ones
- The Avatar Vanquishing Potion
He sells some of his artwork for Charmed on his site; Dan Haberkorn Studios and is the only one to currently do so. Derek Baron sold pages during late 2006 and 2007.
Ad blocker interference detected!
Wikia is a free-to-use site that makes money from advertising. We have a modified experience for viewers using ad blockers

Wikia is not accessible if you've made further modifications. Remove the custom ad blocker rule(s) and the page will load as expected.