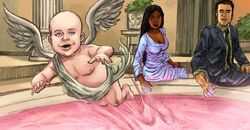 Coop attends a funeral, where he has to use his powers to enlist a deceased child to be a new cupid. He has mixed feelings about performing this task, in part because he has a family now and because he never knew his family due to the nature of being a cupid. Phoebe decides to investigate his family history at The Bay Mirror, and gets a Premonition off a newspaper article about a Senator's daughter getting married to someone with the last name Coopersmith. Phoebe tries to look up more information on the family on the computer, but it's unplugged — by the spirit of Cole.
Phoebe manipulates things so the wedding rehearsal dinner gets moved to Halliwell's restaurant where Cole tries to keep Coop out. He manages to get in, and when asked to help bring a cake in, comforts the groom to be (technically a distant relative), using his cupid ring in the process. The next day, Phoebe gets a Premonition of the wedding, at which a huge fight broke out. Piper, Paige, Phoebe and Coop crash the wedding, and Cole keeps Coop from entering the church. The sisters split up and try to each help one part of the family.
Coop looks for another way in, but Kama, his fellow cupid, tells him not to. She explains that his powers created this problem to start with, because they have a strange effect on family. At the same time, the bride emerges, and Coop talks to her, and uses his powers to set things right again (because she is technically not his relative yet). The wedding is saved. Coop's familial curiosity is satisfied, and he's happy just having Phoebe, PJ and all the other Halliwells. They all play in the park as Cole looks on. An agitated Patty arrives and reprimands Cole for interfering in Phoebe and Coop's lives and being off-task. Cole insists that Coop using his powers on his family would have destroyed all of his relations and he was just trying to protect Phoebe. Patty informs him that Phoebe and her new husband must learn from their own mistakes and tells Cole to get back to work in finding Prue.
Some of the plot analysis by adamreisinger taken from his review of charmed #14
Ad blocker interference detected!
Wikia is a free-to-use site that makes money from advertising. We have a modified experience for viewers using ad blockers

Wikia is not accessible if you've made further modifications. Remove the custom ad blocker rule(s) and the page will load as expected.