Creepers
Physical description
Species
Eye color

Blank

Skin color

Pale White

Affiliation
Residence
Loyalty

Evil

Character information
First appearance
Last appearance
Portrayed By
.
Creepers are a breed of demons. They are very powerful, large cloaked demons who dwell in the slivers of night. They have large white eyes, claws and have an unusual facial structure. Their powers are unknown.
History
Necromancing the Stone
Piper Halliwell vanquished a leader of the Creepers in preparation for Wyatt's Wiccaning. This could indicate that they prey on or feed of spirits of the deceased.
Sword and the City
When Piper drew the sword Excalibur from the stone, its power and Mordaunt's manipulation corrupted her. She started recruiting demons to sit at her round table, one of which was a Creeper. He was later vanquished by Mordaunt with the other demons when he absorbed all their powers.
Spells
(Although there was never a page seen, Piper says she found the spell in the Book of Shadows. There was also a vanquishing potion.)
To Summon a Creeper
Demons who dwell
in slivers of night,
Uncloak your shadows
to witches sight.
Note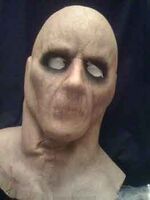 Todd Tucker who portrayed the Creeper Demon has portrayed other various characters on the show like the Aggressor, the gremlins, Krychek Demons and others.
Appearances
Creepers appeared in a total of 2 episodes throughout the course of the series.
Charmed

,

Season 5

#01
"A Witch's Tail, Part 1"
#09
"Sam, I Am"
#17
"Lucky Charmed"
#02
"A Witch's Tail, Part 2"
#10
"Y Tu Mummy Tambien"
#18
"Cat House"
#03
"Happily Ever After"
#11
"The Importance of Being Phoebe"
#19
"Nymphs Just Wanna Have Fun"
#04
"Siren Song"
#12
"Centennial Charmed"
#20
"Sense and Sense Ability"
#05
"Witches in Tights"
#13
"House Call"
#21
"Necromancing the Stone"
#06
"The Eyes Have It"
#14
"Sand Francisco Dreamin'"
#22
"Oh My Goddess! Part 1"
#07
"Sympathy for the Demon"
#15
"The Day the Magic Died"
#23
"Oh My Goddess! Part 2"
#08
"A Witch In Time"
#16
"Baby's First Demon"
Charmed

,

Season 6

#01
"Valhalley of the Dolls, Part 1"
#09
"Little Monsters"
#17
"Hyde School Reunion"
#02
"Valhalley of the Dolls, Part 2"
#10
"Chris-Crossed"
#18
"Spin City"
#03
"Forget Me...Not"
#11
"Witchstock"
#19
"Crimes and Witch-Demeanors"
#04
"The Power of Three Blondes"
#12
"Prince Charmed"
#20
"A Wrong Day's Journey Into Right"
#05
"Love's a Witch"
#13
"Used Karma"
#21
"Witch Wars"
#06
"My Three Witches"
#14
"The Legend of Sleepy Halliwell"
#22
"It's a Bad, Bad, Bad, Bad World, Part 1"
#07
"Soul Survivor"
#15
"I Dream of Phoebe"
#23
"It's a Bad, Bad, Bad, Bad World, Part 2"
#08
"Sword and the City"
#16
"The Courtship of Wyatt's Father"