Cole's Notes on Phoebe were written by Cole Turner about Phoebe Halliwell when the Triad sent him to kill the Charmed Ones. Figuring Phoebe would be the easiest target, Cole set out to seduce her before he truly fell in love with her.[1]
Cole's Notes About Phoebe
Edit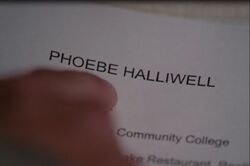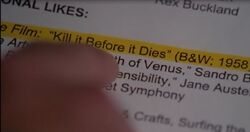 PHOEBE HALLIWELL
POWER: To see the Future and/or Past
OCCUPATION: Student, San Francisco Community College
PREVIOUS EMPLOYMENT:
Catering, Quake Restaurant, Realty Assistant,
Fortune Teller, Buckland's Auction House,
Convalescent Hospital Worker
FEARS:
Losing one of her sisters
Elevators
VULNERABILITY: Susceptible to possession by Evil Forces
KNOWN LOVE INTERESTS:
Michael Emmons
Eric McLean
Brian Gross
Ethan Dubrovsky
PERSONAL LIKES:
Favorite Film: "Kill it Before it Dies". (B&W: 1958)
Favorite Artwork: "The Birth of Venus". Sandro Botticelli
Favorite Book: "Sense and Sensibility". Jane Austen
Favorite Song: Bittersweet Symphony
HOBBIES: Martial Arts, Arts & Crafts, Surfing the Internet
ASTROLOGICAL SIGN: Scorpio
PERSONALITY PROFILE:
--Unknown--
Notes and Trivia
Edit
Zack Estrin is a writer and co-producer of several episodes across the first three seasons.
When Cupid summed up Phoebe's past relations in "Heartbreak City", he mentioned a Mike and a Brian, possibly referring to Michael Emmons and Brian Gross on Cole's list.
Ethan Dubrovsky on the list is possibly a reference to Ethan, a guy Phoebe asked to the party at P3 in "Animal Pragmatism".
References
Edit
Ad blocker interference detected!
Wikia is a free-to-use site that makes money from advertising. We have a modified experience for viewers using ad blockers

Wikia is not accessible if you've made further modifications. Remove the custom ad blocker rule(s) and the page will load as expected.