Ad blocker interference detected!
Wikia is a free-to-use site that makes money from advertising. We have a modified experience for viewers using ad blockers

Wikia is not accessible if you've made further modifications. Remove the custom ad blocker rule(s) and the page will load as expected.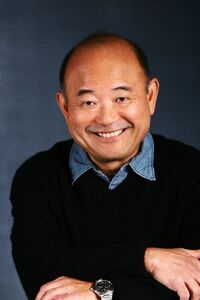 Clyde Kusatsu (September 13, 1948) is a Japanese-American actor. He portrayed Lo Pan in the season 8 episode "12 Angry Zen".
Biography
Edit
Kusatsu was born and raised in Honolulu, Hawaii, where he attended ʻIolani School. Kusatsu began acting in Honolulu summer stock, and after studying theatre at Northwestern University, started to make his mark on the small screen in the mid-1970s. Usually mustachioed, with a dapper, professional air, he has most often played doctors, but his repertoire has included a generous sampling of teachers (usually college professors), businessmen, detectives, church ministers and other intelligent, middle-class types. With his quiet, wry line delivery, Kusatsu made a memorably clever and hilarious sparring partner for Archie Bunker (Carroll O'Connor) on several episodes of All in the Family as the Reverend Chong, refusing to baptize Archie's grandson without the permission of the boy's parents. During this period Kusatsu also worked with the Asian American theatre group East West Players in Los Angeles. Kusatsu is married to Gayle Kusatsu; they have two sons, Kevin and Andrew.
Kung Fu
Hawaii-O-Five
All in the Family
M*A*S*H
MacGyver
Magnum, P.I.
Dynasty
Island Son
New Kids on the Block
Family Matters
Star Trek: The Next Generation
All-American Girl
Beverly Hills, 90210
Ally McBeal
Nip/Tuck
ER
Chuck
Dollhouse
The Young and the Restless
External links
Edit