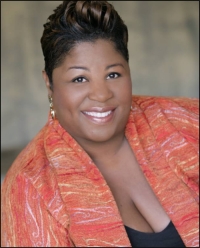 Cleo King portrayed Tanya in the season 4 episode "Trial by Magic".
Biography
Edit
Cleo King was born August 21 1960 in St. Louis, Missouri, USA. As well as acting, King teaches pre-school and plays volleyball on a recreational team.
King has appeared or starred in:
The Cosby Show
ER
Gilmore Girls
NYPD Blue
Friends
Boston Public
Dogville
CSI: Crime Scene Investigation
Deadwood
Ugly Betty
Num3rs
Lost
Demoted
External Links
Edit
Ad blocker interference detected!
Wikia is a free-to-use site that makes money from advertising. We have a modified experience for viewers using ad blockers

Wikia is not accessible if you've made further modifications. Remove the custom ad blocker rule(s) and the page will load as expected.