Christopher Mercer
Biographical information
Born

1988

Physical description
Species
Gender

Male

Hair color

Black

Eye color

Brown

Skin color

White

Family information
Family members
Character information
Only appearance
.
Christopher Mercer is the son of a powerful criminal lord in San Francisco and the biological father of Henry Mitchell Jr.
History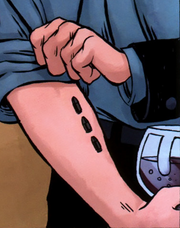 Christopher claimed that he had always found older women attractive and had a girlfriend of his own age, Henry Jr.'s mother, only once, which was also the only serious relationship he ever had. However, she ran out on him, which he suspected was due to his criminal lifestyle. Everyone from his family, except for he and his father, died violently.
Christopher was unaware of his son's existence until he was informed after his arrest, which was set up by Paige Matthews with help from a conjured detective to protect her adopted son. Christopher showed no interest in ever sueing for custody, although he might never even get the chance as it was expected he'd go to prison for the rest of his life. While on a 'date' with Paige, he showed her a tattoo indicating he had killed three people, the first one when he was 14 years old.
Appearances
Christopher Mercer appeared in a total of 1 issue throughout the course of the comic series.
Charmed

,

Season 9

#01
"Charmed Lives"
#09
"The All or Nothing"
#17
"Family Shatters"
#02
"No Rest for the Wicca"
#10
"Three Little Wiccans"
#18
"Four's Company"
#03
"Innocents Lost"
#11
"Last Witch Effort"
#19
"Crossed, Triple-Crossed"
#04
"Mortal Enemies"
#12
"The Charmed Offensive"
#20
"The Old Witcheroo"
#05
"Unnatural Resources"
#13
"Piper's Place"
#21
"Reversal of Misfortune"
#06
"Morality Bites Back"
#14
"Cupid's Harrow"
#22
"Prue Ya Gonna Call?"
#07
"The Heir Up There"
#15
"Where There's Smoke There's a Firestarter"
#23
"The Darklight Zone"
#08
"Oh, Henry"
#16
"The Heavens Can Wait"
#24
"The Power of 300"
#00
"To The Warren Born"