Charmed (comic book)
Talk

147
4,445pages on
this wiki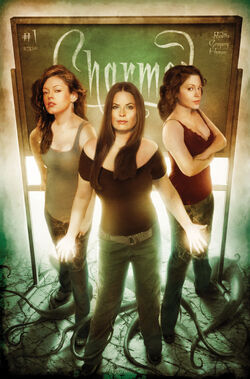 The Charmed Comics is the canonical continuation of the popular TheWB series Charmed. The series is published monthly by Zenescope Entertainment. In addition, a volume collecting 5-7 issues is made each time a story arch is completed.
The news was made official on March 15th, 2010, but Zenescope had already put ads in several comics and one artist had released his test drawings. Alyssa Milano also informed Charmed-fans of this news when she twittered that a comic was in the making.
"The process definitely took a little while and was in the works for well over a year. We were discussing all the potential storylines and details with CBS for quite some time and they also needed to make sure the lead actresses were all okay with us using their likenesses. The main thing was that we all wanted to make sure this was something we were going to do right so we didn't want to rush anything."
— Ralph Tedesco, Zenescope Editor-in-chief
Storyline
The story will pick up where the series left off; the Charmed Ones battling the forces of evil in San Francisco.
"The series starts off about a year or so after the end of the last season," Gregory said. "The sisters are each off living their lives. They have had their well-deserved happily ever. But what they don't realize is that there might have been some serious consequences for vanquishing all that evil. Something is brewing in the Underworld. Something big!"
"
The key to this series success is to strike a nice balance in creating a brand new, intriguing storyline for fans of the television show while also not alienating Zenescope and comic book readers who haven't really followed it before but might want to now that it's a comic. The great thing is that Paul and Raven have done just that with this story arc. Anybody will be able to pick up this series and follow it whether or not they ever watched the show before. Moreover, fans of the show are going to be thrilled when they see where this story goes.
"

—Ralph Tedesco, Zenescope Editor-in-chief
12 Issues Planned
"
That depends on your definition of the word "planned. We started out with an initial arc of five issues that were pretty set before we even wrote one page of the first comic book. But we hope that arc is just the beginning of something bigger. We have plans that can take us in several directions depending on Zenescope's and CBS's approvals; the fan response and what we decide will ultimately work best for the line.
"

—Paul Ruditis, Charmed comics writer
Paul Ruditis explained that five issues can be compared with one episode of the TV series and that, for now, only twelve issues have been planned. He also said that after 5 issues are published, a Volume will be published containing the previous five issues.
Characters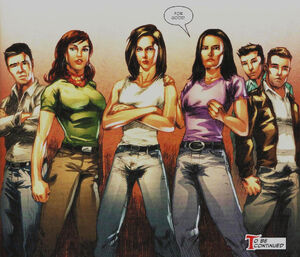 The main characters remain the same, the Charmed Ones; Piper, Phoebe, and Paige and their husbands Leo, Coop and Henry. Their children will play a part in the comics as well, though they won't be big, Ruditis explained.
Aside from the main characters, characters such as Elise Rothman, Phoebe's boss at The Bay Mirror and Billie Jenkins, Paige's charge and a close friend to the sisters are said to appear. Just like the sisters' children, they won't play a big part and will only appear when they really need to. Currently, these characters were only mentioned by the main characters.
Other characters will be new, such as the students at Magic School and the new demons and threads that the Charmed One's will face. But also past innocents and demons will make an appearance. The past innocents, who are being hunted and killed, such as Tyler Michaels and Max Franklin have already appeared as part of the innocents who are kept safe from harm in the Halliwell Manor.
The Charmed Comics Crew
Writers
Zenescope chose Paul Ruditis to write the Charmed comics because they found that he knew the Charmedverse very well. Ruditis has previously written three Charmed novels; "The Brewing Storm", "As Puck Would Have It", and "Leo Rising" as well as a short story for the "The Warren Witches". Furthermore he also wrote the official Charmed guides "The Book of Three, Vol. 1 and 2" and a little book called "The Book of Love Spells", a collection of spells from the series.
Assigned to co-write with Ruditis was Raven Gregory. An acclaimed writer of the Wonderland trilogy; "The Gift", and "The Waking", also published by Zenescope. He helps Ruditis convert his stories to a comic book format. He left the Charmed comic series after Issue #3 but still helps Ruditis when needed.
Interior and Exterior Artwork Artists
Renowned artist Dave Hoover (Captain America, The Wanderers) provided the interior illustrations for the first three issues. From the fourth issue on, the comics will be drawn by Marcio Abreu. Issue #6 was drawn by a temporary artist Tess Fowler.
In October 2010, Dave Hoover announced through his deviantART account, that he will not continue drawing the Charmed Comic books. He finds that he is not paid what he deserves.
Covers for the comics will be made by David Seidman (SE7EN,Grimm Fairy Tales: Pinocchio) and guest artists Al Rio, Greg Horn, Tony Shasteen and Mark Sparacio.
Art Submissions
To get the job, the artists had to sketch two pages for the comics. Marcio Abreu, who got hired after Dave Hoover left had to sketch two drawings of the sisters.
Getting the Rights
It took Zenescope about a year to get all the legal rights, including the right to use the actresses' likenesses. Alyssa Milano, Holly Marie Combs and Rose McGowan, all agreed to their likenesses being used, but it remained unclear if Brian Krause, Drew Fuller, Shannen Doherty, Kaley Cuoco, or any other of the important cast members would agreed as well. However, both Leo Wyatt and Billie Jenkins have appeared in the comics and resembled their TV-appearance, making it clear that both Brian Krause and Kaley Cuoco agreed for their likenesses to be used.
Alyssa Milano, who portrayed Phoebe in the series, was very excited about the comics, she said: "Well, I approved some of the artwork for the rendition of my character, and it looks awesome. I'm very excited. A show like Charmed has been such a lovely part of my life simply because the fans have been so loyal. That's why we were on the air for as long as we were, on a network that wasn't bringing in great numbers at the time. So I think that anything to continue the legacy that we had is awesome."
Return of Prue, Cole and Billie
What most fans directly wanted to know, "Will Prue, Cole or Billie make an appearance in the comic series?". Gregory answered "We'll see.", Ruditis explained further that familiar names pop up in the first few issues. He wanted to make sure that he included story elements for fans of the first few seasons, as well as fans of the last few seasons as well as introduce new characters for people who never were a fan at all but would pick up the comic book because it's from Zenescope.
When asked if the stories would also focus on the romantic lives of the sisters, Ruditis explained that it'll always be a part of the stories. He said that it'll sometimes be the focus of a story, but at other times it might be a background story.
When asked if Prue would ever return, Ruditis coyly replied "Is anyone ever really gone?"
Cole Turner helping out the Halliwell's
Prue finally returns!
Gallery
Ads
Official
This ad was originally going to be used as cover, but was used as an ad instead.
Unofficial
Trivia
Alyssa Milano confirmed the news about the Charmed comics via her twitter on January 10th.
An early Charmed comics cover was drawn by Eric Basaldua and coloured by Steve Firchow in June. Basaldua confirmed it will not be used. Basaldua and Firchow are not part of the charmed comics creative team.
The test drawings were all based on the show's promo pictures of the girls.
As said by Paul Ruditis, Rat demons will make an appearance in the comics.
Ruditis loves the pun titles from Charmed and decided to continue this tradition with the comics.
Even though Holly Marie Combs has a tattoo on her wrist during the show, there is no tattoo in the comics. Her tattoos are drawn for the first time in issue 11.
Returning are Billie who makes a cameo, Cole is recurring character and Prue made her long awaited return during issue 15.
External Links
Interviews
Comic Con
Videos from the Charmed panel. Paul Ruditis, Raven Gregory, Ralph Tedesco and Milen Parvanov talk about Charmed and the comics.
Sellers