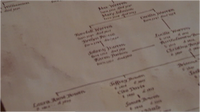 Cecilia Warren (b. 1741 - d. 1779) was the daughter of Max Warren and Mary Johnson and the sister of Randall Warren. She had one daughter named Lucille Warren (b. 1758), but no father is seen on the family tree.
Note: the family tree is a little blurry, and so the above noted years may be incorrect.
Ad blocker interference detected!
Wikia is a free-to-use site that makes money from advertising. We have a modified experience for viewers using ad blockers

Wikia is not accessible if you've made further modifications. Remove the custom ad blocker rule(s) and the page will load as expected.