Cat House is the 18th episode of the fifth season and the 106th overall episode of Charmed.
For a complete plot of Cat House, go

here

.
Piper and Leo are having marital problems. Phoebe arranged an appointment with a marriage counselor. He wants to talk with them about their marriage, by talking about their memories. Piper casts a spell to 'relive' the memories, but the spell traps Phoebe, Paige and a warlock in their memories. Phoebe and Paige are trying to protect themselves and Kit against the warlock and to find out what happened to them.
Main Cast
Edit
Guest Stars
Edit
Appearing in Clip Footage
Edit
Uncredited
Edit
Magical Notes
Edit
Book of Shadows
Edit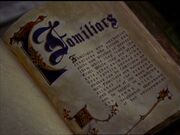 Familiars are enchanted
creatures who follow and
guide new witches to protect
them while they learn the
Craft. While they are often
cats, other animals, like
dogs, rabbits, horses and
snakes can be familiars as
well. Familiars are naturally
attuned to the seasons
and phases of the moon and
can be helpful in teaching
the young witch a
heightened awareness
of her environment.
While talking to a marriage counselor, Piper cast this spell to be able to remember her memories very well. It caused Phoebe, Paige and a Warlock to be trapped inside the memories.
Let the Truth be Told,
Let our Lives Unfold
So we can Relive our Memories,
and Stop being Enemies.
Artifacts
Edit
Scrying Crystal - a magical pendant used for scrying. The Familiar Hunter used it to scry for Katrina.
Notes and Trivia
Edit
The UK title for this episode is "Flashbacks".
Although Prue's appearances are from archive footage of earlier episodes, and only her back was shown, this was the only episode to feature all four sisters.

Although Prue's back is shown in the wedding flashback, this is not Shannen Doherty. A stuntwoman filmed the original scene and the flashback was able to be used in this episode, because it did not violate Shannen's contract over using her likeness.

Paige made a comment about Phoebe being blonde in one of the flashbacks , ironically Paige would go blonde in season 6.
The disappearance of the bride and groom wedding cake topper foreshadows the break up of Piper and Leo in the next season.
The house that Katrina lives in, in this episode was used in Beverly Hills, 90210, a 90's teen soap show that Shannen Doherty starred in.
It is mentioned in this episode that Piper was engaged to the warlock Jeremy. Previously it was only known that they dated.
This episode scored 4.2 million viewers.
The warlock in this episode is portrayed by Zachary Quinto, best known for his role on Heroes as the main villain Sylar. In the show, Sylar kills other evolved humans in order to obtain their powers, similar to how the warlocks in Charmed kill witches to steal their active powers.
The flashbacks are from the following episodes;
During the proposal flashback Paige says that she wants to hear Piper's answer. Phoebe then replies "we already know the answer," ironically this was when Piper said no to Leo.
Cultural References
Edit
The title of the episode comes from the Russian fairy tale "Koshkin dom" ("Cat House").
Continuity Errors
Edit
Various flashbacks are appear to be different than the scenes in the original episodes.
Kit is revealed to be female in this episode. Her gender was unclear, as she had been referred to male and female in various earlier episodes.
In the memory in which Phoebe and Piper track Dantalian down, Paige is surprised that Phoebe was blonde. However, Phoebe's hair was brown again at the time.
Phoebe claims to be unaware that Kit was their familiar, though it was heavily implied to be the case in "Pre-Witched". After encoutering Shadow, Phoebe noted she could never look at Kit the same way again.
In They're Everywhere, it is said that warlocks don't bleed. However, Katrina draws blood when she scratches the warlock's face in this episode.
Phoebe mentions that Piper was engaged to Jeremy Burns, though in "Something Wicca This Way Comes", Piper only refers to him as her boyfriend.
Screen Caps
Edit
International Titles
Edit
Italian: Crisi Matrimoniale (Marriage Crisis)
French: Au cœur des souvenirs (In the Middle of the Memories)
Czech: Kočičí dům (Cat House)
Slovak: Mačací palác (Cat Palace)
Russian: Тайна талисмана [Tajna talismana] ( the secret of the talisman)
Spanish (Spain): Casa gatera (Cat House)
Spanish (Latin America): La casa de los gatos (The Cats' House)
Serbian: Macja Kuca
German: Katzenjammer (The Blues, verbatim: Cat Lament)
Hungarian: A macskák háza (The Cats' House)
Ad blocker interference detected!
Wikia is a free-to-use site that makes money from advertising. We have a modified experience for viewers using ad blockers

Wikia is not accessible if you've made further modifications. Remove the custom ad blocker rule(s) and the page will load as expected.