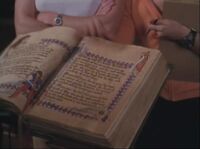 Carol Wood is the creator of the Book of Shadows pages from the Unaired Pilot until Pardon My Past after which Dan Haberkorn took over. She also made the Italian and Latin Pages seen troughout the whole series. Many of those pages are still unknown.
Her art was based on medieval handwritings and only used fonts as inspiration twice. Her autograph can be seen on two pages; Brianna and the Lords of War and Charm of Multiplicity.
Famous Pages
Edit
Her most famous pages are:
Carol Wood does not have any website but Dan Haberkorn sells the Charm of Multiplicity page on his website.
It is not known why Carol Wood stopped making pages.
Carol is the first of three artists to make pages for the Book of Shadows.
Ad blocker interference detected!
Wikia is a free-to-use site that makes money from advertising. We have a modified experience for viewers using ad blockers

Wikia is not accessible if you've made further modifications. Remove the custom ad blocker rule(s) and the page will load as expected.