Café Le Blue
Information
Location
.
Prue: "So, um, have you been here before?"
Dick: "Oh, it's close to the office. I don't like to take long lunches."
Prue: "What's good?"
Dick: "Caesar's fine, pasta's fine, fish is fine, steak is..."
Prue: "Fine."
— Prue Halliwell and Dick on their date.
Café le Blue is a small restaurant located in San Francisco. Prue Halliwell went there on a date with a man named Dick while years later, Phoebe Halliwell went there on a date with Mitch.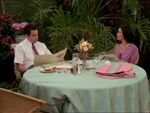 Prue Halliwell went to the Café Le Blue while in a date with a nice, but utterly boring, office worker named Dick. While at the café, the Genie appeared in a miniaturized form, jumped into Dick's body and possessed him in an attempt to make Prue make a wish so he could be freed from his bottle. Prue unknowingly made a wish, which caused her to become her seventeen-year-old, high school self; making her powerless in the process.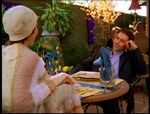 Four years later, Phoebe Halliwell went to the café on a date with a man named Mitch. In an attempt to identify who would be the father of the daughter she had foreseen in a premonition, she tried to get a premonition off him to no avail. While having lunch with Mitch an infected Chris appeared to get Phoebe to help her sisters work on vanquishing the Spider demon.
Ad blocker interference detected!
Wikia is a free-to-use site that makes money from advertising. We have a modified experience for viewers using ad blockers

Wikia is not accessible if you've made further modifications. Remove the custom ad blocker rule(s) and the page will load as expected.