Bug Hall
Actor Information
Name

Bug

Birthplace

Fort Worth, Texas, USA

Birth date

February 4th, 1985

Portrayed
Season

7

Episode(s)
.
Brandon Hall, also known as Bug, appeared in the season 7 episode "Charmed Noir". He portrayed the role of Eddie Mullen.
Biography
Edit
Brandon Hall, nicknamed "Bug" by his family, was born in Fort Worth, Texas on February 4th, 1985. Bug e is best known for portraying Our Gang kid Alfalfa Switzer in the 1994 film The Little Rascals, which he won a Young Artist Award for Best Performance by a Youth Ensemble in a Motion Picture.
Bug Hall also starred in Disney's Honey, We Shrunk Ourselves as Adam Szalinski. Since then, he has continued to appear in films as a teenager and young adult. He was in the direct to DVD movie Skipped Parts, released in 2001, with Mischa Barton. He also appeared in 2002 in the Disney Channel's original movie Get A Clue, starring Lindsay Lohan and Brenda Song.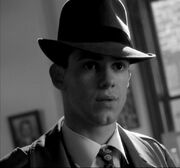 The Little Rascals
Tad
The Big Green
The Stupids
The Munster's Scary Little Christmas
Honey, We Shrunk Ourselves
Hercules
Safety Patrol
Kelly Kelly
Mel
Providence
Skipped Parts
Get a Clue
Arizona Summer
The King and Queen of Moonlight Bay
Footsteps
CSI: Crime Scene Investigation
Strong Medicine
Charmed
Cold Case
Mortuary
Justice Colin Clark
CSI: Miami
The Day the Earth Stopped
Camouflage
American Pie Presents: The Book of Love
Saving Grace
Fortress
Boarding School
Ad blocker interference detected!
Wikia is a free-to-use site that makes money from advertising. We have a modified experience for viewers using ad blockers

Wikia is not accessible if you've made further modifications. Remove the custom ad blocker rule(s) and the page will load as expected.